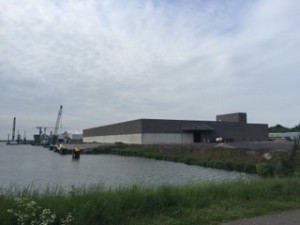 May 2016 -At this moment great efforts are being made to get the new warehouse and terminal operational so we can receive our first vessel of 3.500 tons by the 1st of June 2016.
The production in Breda has been stopped and the move is in progress.
In the new warehouse we'll have a storage capacity of 50.000 tons, 30 boxes of 1.000 to 2.200 tons each. The covered storage for big bags (cap. 9.000 tons) and the outside storage for packed material (cap. 20.000 tons)  is ready as well.
In the warehouse we'll have a new packaging line for 25 and 50 kg bags, a packaging line for big bags and 3 blenders. The renovation of the old warehouse is planned for next fall.